Collier County Breaks Ground on First New High School in Approximately 20 Years
Posted by Mark Washburn on Wednesday, November 24, 2021 at 11:07 AM
By Mark Washburn / November 24, 2021
Comment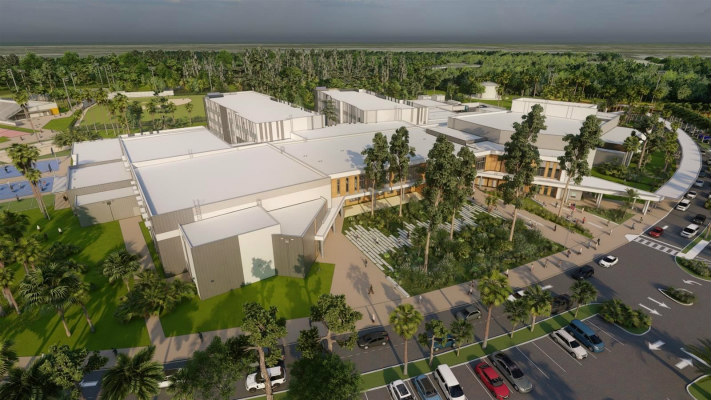 Collier County is pushing ahead with construction on its first new high school in nearly 20 years. Crews recently broke ground on the new facility in North Naples.
The property sits off Livingston Road in an area that will someday be at the Veterans Memorial Boulevard extension. The high school doesn't officially have a name just yet, but by late summer of 2022 a decision should be announced on its official name, the school colors and its mascot.
For now, it's simply being called GGG High School. Plans call for a three-story building with five different academies, including Health Science, Information Technology, Law Studies, Engineering and Entrepreneurship & Finance.
In total, the school will have a half-dozen skill labs, six resource rooms, several science labs, two music classrooms and two art labs. The latest renderings for the more than 295,000 square foot facility include a welcome center, an open dining hall, and a student union with a genius bar.
The high school with also have a more than 1,300 seat auditorium with a balcony and what's called a championship gymnasium. By the start of school year in 2023, the school will be welcoming in its first students.
Around 1,800 kids, mostly from Barron Collier High School and Gulf Coast High School, will be shifted to the new property. This will make it the largest school in the district when it opens up.
The entire project began in the early 2000s when the school district first purchased the property. In spring of 2019, the district hired a design firm. By the next year, the district had approved a construction management firm.
Next calendar year, school officials will start hosting some rezoning meetings and some school naming meetings. The new high school sits close to North Naples Middle School and Veterans Memorial Elementary School.
Search North Naples Central Communities