Collier County Beach Renourishment Project
Posted by Mark Washburn on Wednesday, December 22, 2021 at 12:03 PM
By Mark Washburn / December 22, 2021
Comment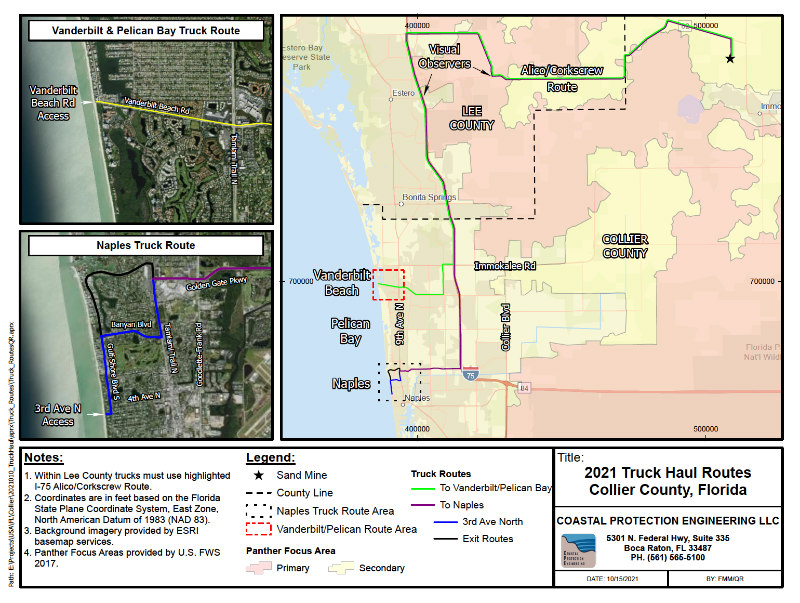 A beach renourishment project is underway in Collier County, where crews are making several million dollars in improvements to area beaches. The renourishment project is aimed at shoring up the area from Naples Pier to Lowdermilk Park, plus also a section of Vanderbilt Beach and a smaller portion of Pelican Bay Beach.
In all, crews are adding more than 4,000 truckloads of sand to area beaches. That totals 105,000 tons for the Naples Beach section and more than 268,000 tons of sand in all for the entire project.
Crews began in November on Naples Beach. Work on Vanderbilt Beach is being completed this month, with work on Pelican Bay Beach slated for early 2022. The renourishment project is aimed at helping ease erosion by widening and raising the public beaches.
The sand is being trucked in from a mining site near Immokalee, with crews working from morning to night to finish the job. While some question the timing of the renourishment project, area leaders say it needed to be done sooner than later.
The work couldn't start until the end of turtle season, which was early November. This time of year, however, is when many people flock to Florida, in search of warmer weather and blue skies as much of the rest of the nation gears up for the cold winter season.
At one point during the project, it was estimated about 200 trucks were making the trip from Immokalee daily, transporting the sand to area beaches. While some people were concerned about the all the work being done during this time of year, leaders did say they planned on keeping most of the beaches open to the public.
The renourishment project is funded through Tourist Development Tax money. As for the Pelican Bay section of the project, its money comes from the Pelican Bay Services Division.
Search Featured Gulf Shore Boulevard Communities