Baker Park Construction Underway
Posted by Mark Washburn on Wednesday, June 27, 2018 at 9:46 AM
By Mark Washburn / June 27, 2018
Comment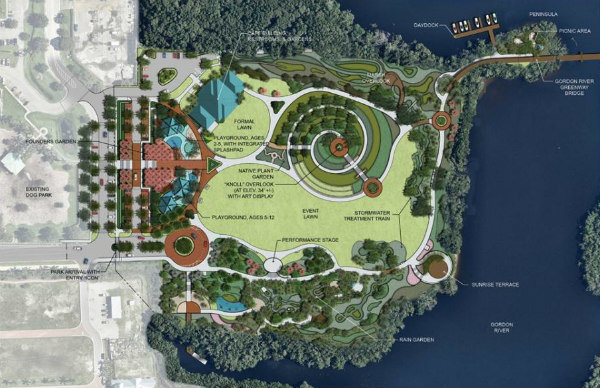 Construction is well underway for the new Baker Park in Naples, a project that's been, until now, years in the planning stage. Just a few months ago the Naples City Council gave the go-ahead for the multi-million dollar construction project to begin, with plans to transform an area off Goodlette-Frank Road into a 15-acre park spanning the edge of the Gordon River.
Actual construction began the next month, and crews have been hard at work on the new park now for months. Already the site shows signs of progress with the beginnings of a grassy knoll evident, while the elevation of the remainder of the park is also currently being worked out.
If all goes well, it's expected the entire park could be fully open by fall of next year. That's certainly good news for some area leaders. The desire to construct a new park first came about decades ago, though it was just five years ago that councilors finally approved purchasing additional land for the park near the city's former landfill.
Originally named Gordon River Park, the new park is now named after a major donor to the project. In fact, several donors have contributed to the project, though the design has changed several times, causing the city to return some of the previously collected funds.
It's hoped that leaders will be able to appeal to some of those same donors again, however, as the project progresses. At one time area leaders had hoped to fund much of the project solely from private donations.
When finished, the park site will include a building for special events and a band stage. Already a new bridge connects the future park to the Gordon River Greenway. It was completed a few months ago, helping to lay the groundwork for a larger project down the road.