All About Pelican Bay's Much Admired Green Tram System
Posted by Mark Washburn on Monday, August 14, 2023 at 2:00:42 PM
By Mark Washburn / August 14, 2023
Comment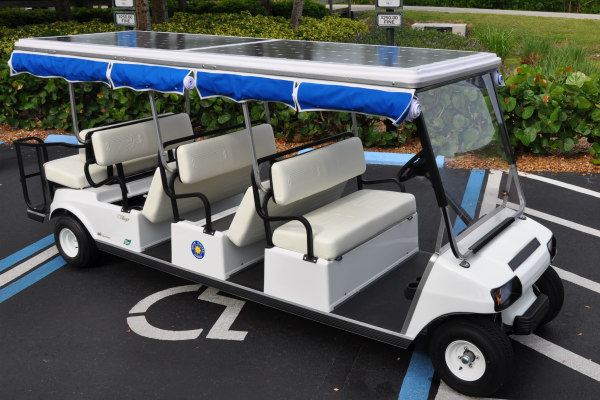 Some of Southwest Florida's most popular communities are packed with added amenities, and that's certainly true when it comes to Pelican Bay. Not only does living in the community mean easy access to tennis, fitness, and a private golf course, but it also means easy access to the beach.
The entire master-planned community is massive, and one of the easiest ways to get out and enjoy everything is by using Pelican Bay's much admired, green tram system. The tram system consists of dozens of vehicles, each of which is partially solar-powered.
The solar/electric trams transport residents along the paved trails and boardwalks of Pelican Bay, to and from the beach restaurants and bars, as well as simply the beaches and conservation areas. There are eight tram stations found in the community, and residents can utilize them from morning through the after-dinner hours.
Residents of Pelican Bay signal pick-up with one of the convenient call boxes, plus there are some wheelchair-accessible trams that are available to be reserved in advance. The open-sided trams are often a good way to entertain guests and visiting family members too, as the drivers commonly come across and point out wildlife while traveling throughout the nature preserve.
It's not unheard of to spot fish and turtles, racoons, possums, birds, and alligators, but that certainly doesn't mean there sometimes aren't other animals and birds visible along the tram route. The tram system is just one of the most popular amenities of living in Pelican Bay. The large development also offers beaches, restaurants, tennis, and fitness.
In addition, there's a private golf club that sits inside Pelican Bay, plus the opportunity to get out on the water with sailing, canoeing, and kayaking. The luxury community of Pelican Bay is one of the largest private communities in the region and takes up nearly three-square miles.
Search Pelican By by Neighborhood